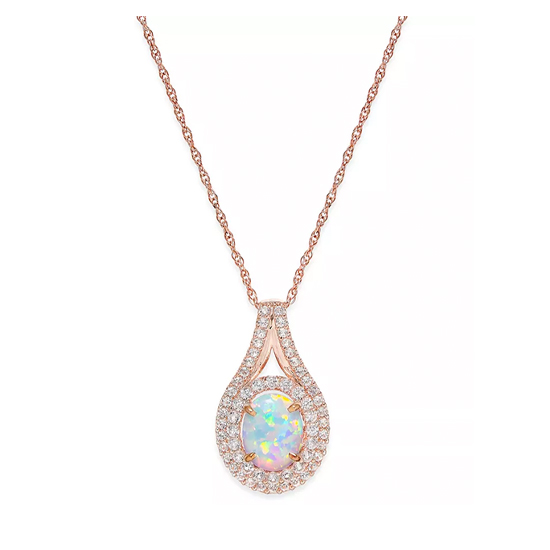 -46 %
14k Rose Gold-Plated Sterling Silver Lab-Created Opal Pendant Necklace
This lab-created opal (1 ct. t.w.) pendant necklace has lab-created white sapphires (3/4 ct. t.w.) set in round prongs for a lovely finish. made of sterling silver and rose gold plating that is equivalent to 14 carats of gold. Estimated Length: 18" Estimated Fall: 7/8"
The gems generated in labs are chemically, physically, and visually indistinguishable from their natural counterparts. Lab-created stones are made through a consistent, controlled process of applying minerals, heat, and pressure, and they typically have very few inclusions.
Diamonds featured in this collection have been inspected and verified as being synthetically created in a lab, eliminating any risk that your purchase could be funding miner exploitation or conflict in areas of the world.
Possible enlargement and/or enhancement of the photo
Most gemstones have been enhanced by treatment, making them more fragile and susceptible to damage.
If given, the total carat weight of any gemstones is an approximation that may vary somewhat 0.05 carat
Stock:

In Stock

SKU:

EROWN-1207001